Unwind in Natural Splendor
Discover The Ning Resort Ubud, a tranquil retreat nestled in the heart of Bali's lush Ubud. Experience modern luxury amidst the breathtaking beauty of nature.
Indulge in Exquisite Serenity
Escape to The Ning Resort Ubud, where serenity meets sophistication. Immerse yourself in luxurious accommodations, mesmerizing views, and unparalleled relaxation.
Create Unforgettable Memories
Celebrate life's special moments at The Ning Resort Ubud. From romantic getaways to enchanting weddings, our oasis offers an unforgettable experience tailored just for you.
Welcome to the Ning Resort Ubud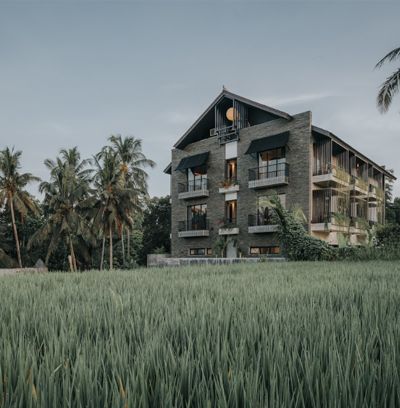 Welcome to The Ning Resort, where modern luxury meets natural serenity. Experience the ultimate retreat in Ubud, Bali. Indulge in spacious rooms, exquisite dining, and rejuvenating spa treatments. Discover your oasis of relaxation, luxury, and bliss. Welcome to The Ning Resort, your haven of unforgettable memories.
Experience modern natural luxury in our spacious Suite Rooms at The Ning Resort Ubud. Retreat to comfort and indulge in a luxurious getaway. Each Suite Room offers stunning views from a private balcony….
Our 3 unit Plumeria One Bedroom Private Pool Villas feature a range of facilities to ensure a comfortable and luxurious stay, including a spacious bedroom with a comfortable king-size bed, a complete set of amenities, a bathtub and….
Book Your Ultimate Getaway Now!
Experience the perfect blend of modern luxury and natural beauty at The Ning Resort Ubud. Discover spacious rooms, exquisite dining, and rejuvenating spa treatments. Don't wait, secure your stay now and elevate your getaway to pure bliss!
Frangipani Spa & Wellness
Arrival time You are encouraged to arrive at least forty minutes before your appointment to enjoy the exclusive facilities at The Frangipani Spa Opening Hours 11.00 A.M. – 08.00 PM
Orchid Restaurant & Bar Rose
A casual dining convenience with the warm ambiance of a modern nature architect. Located in the dawn area, promises the best view  of the resort while you enjoy a wonderful Forest Valley View of signature Asian & Western cuisines. The Orchid Restaurant is the all-day dining destination of the resort.
Best Service & Facilities
Experience our exceptional service and top-notch facilities at The Ning Resort. We strive to provide the best in hospitality, ensuring your stay in Ubud, Bali is truly memorable.
Discover what people are saying about us
Discover testimonials from guests who have experienced extraordinary moments at The Ning Resort Ubud. Listen to their stories and find out why we are the top choice for luxurious and nature-inspired accommodations in Ubud, Bali.
People rated our Services
Yassere Harhouri
2023-06-26
We had a wonderful Stay at this new Hotel. Staff very Helpful and installation is all new and modern. Special mention to the staff at the reception for arranging our bike rental and for Widya from the Restaurant Staff. The road is a bit bumpy and remote but it adds more to the authencity of the place.
Fantastic staff, fantastic food ,fantastic everything.This place is an experience in itself. As i write this post my month long holiday comes to an end with 5 destinations and hotels and without a doubt this was the right place to end off at. Well done ning resort ! You have left me wanting more.Will be back for sure .
Sehr abgelegenes Hotel aber echt Traumhaft. Wir hatten eine Villa mir Pool einfach ein Traum. Der Hauptpool ist riesig und das Personal Tipp topp. Das Frühstück war der absolute Wahnsinn.
Antoine Rivayrand
2023-05-05
Amazing.